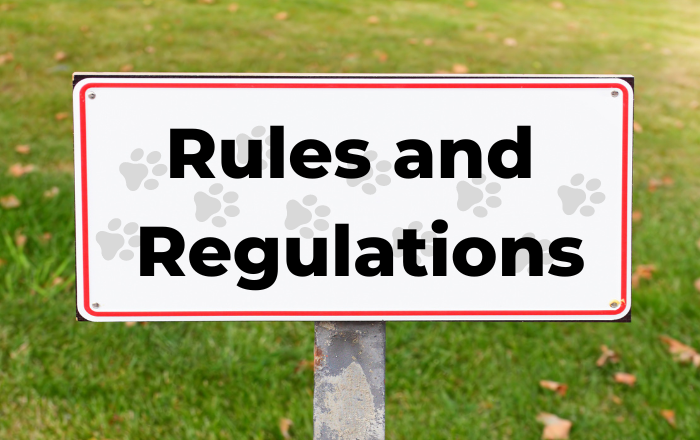 Off-Leash Park rules and regulations - a must read
We take our parks seriously and only want well-behaved dogs to enter. Please read these rules carefully before entering the park with your dog.
All owners must clean up after their dogs.

All dogs must be leashed in the entry area and unleashed in the main yard and the training and small dog areas. This is for the dogs' protection.

Dogs under three months of age cannot get Park permits.

No dog allowed who has injured a person by biting.

If your dog is involved in an unpleasant experience (but no injury) with another dog or person, please remove your dog from the Park for the day.

If your dog is vicious to another dog or person (causing injury) it will be reported to

Animal Control

and will be subject to the

City's policies

regarding this issue.

Owners are responsible for all dog behaviors (fights, digging, etc.) and will be expected to offer compensation or repairs.

Female dogs in heat are not allowed in the Park.

Each adult handler may have no more than two dogs at a time in the Park.

Owners must carry a leash for each dog at all times while in the Park.

Dogs must be under owners' visual contact and voice control at all times.

Children under 12 years must be supervised by an adult while in the Park.

No wheeled vehicles (bicycles, wagons, roller blades, etc.) are allowed in the Park. The exceptions to this are wheelchairs and strollers.

No food is allowed in the Park except for small training treats. Beverages may be brought in if they are in plastic or paper containers; containers and lids must be disposed of properly.

Dogs in small dog yard should be less than 15 inches at the shoulder.

For your dog's safety, please do not use prong, choke, or training collars in the Park.

For your dog's safety, please do not have your dog leashed inside the Main Yard fence.

Proof of permit (paper or electronic) must with the owner at all times while at the Park.

Animal Control officers and Parks Department staff have the right to ask anyone to leave the Park. Fines will be the same as those for at-large dogs in other parks, as stipulated by chapter 23.33 of the Cedar Rapids Municipal Code.